Tamra Copper Conductors
Tamra Transformer Conductor is produced in every conceivable ambience (Moisture controlled Dust free) to churn out flawless and better than best Copper & Aluminium conductor; with varieties of Insulation in comprehensive- spread from Kraft Paper to Glass Insulation and from single conductor to bunched to meet up exact requirement.
Infrastructure:
UPCAST – OFC Copper Wire Rod
Continous Rotary Extrusions – Strips
16 Layer Paper Covering
32 Layer Paper Covering – MPC
Triple / Quadriple Bunching
Fibre Glass Insulation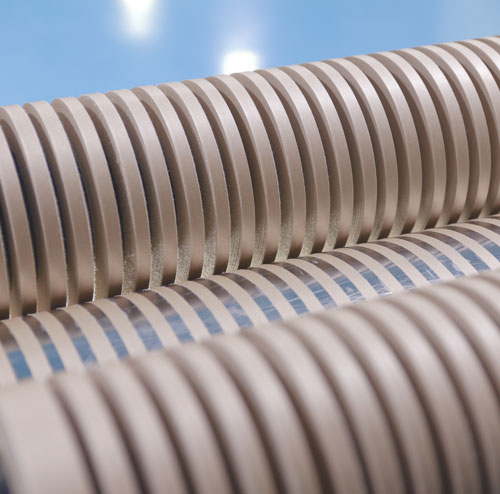 Integration
OFC Copper Rod
Tamra Oxygen Free Copper Wire Rod with less than 5ppm generates highest purity Copper, embracing Vertical Upward Continuous Cast process. Exclusive usage of LME Grade A copper cathode and rigid process control helps Tamra to deliver a product which is a class apart. Tamra has successfully nurtured a rare capability to produce Silver Bearing Copper.
---
Bare Conductor
Rectangular: The continuous radial extrusion Conform process results into clean, deburred, smooth, round edged conductor's soft conductor. Extrusions of both Copper & Aluminium are processed through superior Conform technologyto deliver best material.
Round: A scratch free annealed Copper / Aluminium wire are produced using the best European technology ensures Tamra to produce joint-less conductors of highest quality.
---
Tamra Transformer Conductor
With a seamless bare conductor and with efficient insulating production line in a dust free moisture controlled atmosphere helps Tamra to guarantee a product ,which excels global standards.
The meticulous insulation line encompasses the gamut of transformer's conductor like Kraft Paper, Crape Paper, Nomex, Mica, Polyster, Double glass and the variant of various insulation material required by the industry to meet varied applications.
---
Quality
Tamra is destined for ultimate success thru Quality Assurance right from Raw Materials to finished product passing through rigid quality checks of various electrical and mechanical parameters.
Tamra guarantees the super quality product through the stringent quality measures carried internally through its state-of-the-art lab, a few of which includes :
Oxygen analyser | Spectrometer | Profile Projector
Digital Conductivity Meter | Hardness Tester Di-electric Meter
Products
Types of Insulation
Range of Manufacture
Insulation Build Grade
Specification
Paper Covered/ Lapped Wire
Multi Lapped Manila/ Kraft
Paper orCrepe Covering Butt
Lap, Half lapwound and Multi layers
6.4 to 0.50 mm
0.05 to 0.125 mm Kraft
Paper thickness or as required
IS: 7404 Pt-1
BS: 4653: Pt-2
BS: 6811 Section 8,1
IEC: 317-27
Paper Covered/ Lapped Strips
Multi Lapped Manila/ Kraft
Paper orCrepe Covering Butt
Lap, Half lapwound and Multi layers
upto 100 Sq. mm
0.05 to 0.125 mm Kraft
Paper thickness or as required
IS: 7404 Pt-1
BS: 4653: Pt-2
IEC: 317-27
Nomex (Meta Armaide paper) Covered/Lapped Wires
Aromatic Polyamide Fiber
Based Paper Covering Butt
Lap, half Lap, Multi layer
6.4 to 0.50 mm
0.05 to 0.125 mm
IS: 11174
BS: 4653 Pt-2
IEC: 851
Nomex (Meta Armaide paper) Covered/Lapped Wires
Aromatic Polyamide Fiber
Based Paper Covering Butt
Lap, half Lap, Multi layer
upto 100 Sq. mm
0.05 to 0.125 mm
IS: 11174
BS: 4653 Pt-2
IEC: 851
Mica Composite
covered/lapped strips
Resin-Rich Mica Paper Glass Fabric
or Polyester Film Composite, Single
or Multi tape construction overlap or Butt wound
upto 100 Sq. mm
Tape Thickness 0.10 to 0.33
To Customers Specification
Kapton Covered
Sintered Wire
Polyamide film with Fluorinated
Ethylene Propylene Bonding
Covering Single or Double Tapes, over lap or Butt wound
0.91 to 60 mm
Film Thickness 37 microns 62 microns 75 microns
To Customers
Specifications
IEC: 851
To Customers
Specifications
IS: 9148
Kapton Covered
Sintered Strip
Polyamide film with Fluorinated
Ethylene Propylene Bonding
covering ¼ lap, 1/2 lap, 2/3 lap
0Upto 60 Sq. mm
Film Thickness 37 microns 62 microns 75 microns
IEC: 851
S: 4685
BS: 1933 Pt-1
IEC: 317-31/32/33
IS: 10114/13730-0-4
Glass fibre yarn Covered
/ lapped varnish/Resin
Bonded Wire
Insulation One/Two layer Glass
Fiber Yarn
Combination Enamelled
0.30 to 6.4 mm
1st layer 0.1 to 0.18 mm
2nd layer 0.19 to 0.43 mm +
combinations of insulation
IEC: 317-31/32/33
Glass fibre yarn Covered
/ lapped varnish/Resin
Bonded Wire
Insulation One/Two layer Glass
Fibre Yarn.Combination: Enamelled,
Polyester Film, Nomex Paper
Upto 60 Sq. mm
Layer 1, 0.10 to 0.18 mm
Layer 2, 0.19 to 0.43 mm +
combinations of insulation
IEC: 317-31/32/33
| Insulation Type | Thermal Class | Standard | Applications |
| --- | --- | --- | --- |
| Kraft | 150°C | IEC 60317-27 | Oil-Filled Transformers |
| Nomex | 220°C | IEC 60317-52 & 53 | Dry-Type & Oil Filled Transformers |
| Polyester Film | 155°C | Acc. Customer Spec. | Special Transformers (Gas Transformers) |
| Kapton (Polymide Paper) | 240°C | IEC 60317-43 & 44 | Traction Motors |
| Mica | 155°C | Acc. Customer Spec. | High Voltage Motors - Generators |